Get the Skills to Be a Professional Computer Programmer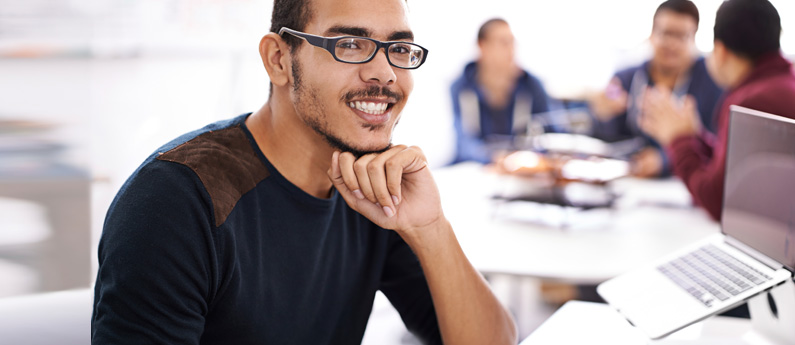 7 Months Programming Career Training Program
With the growing demand for new software, now is an exciting time in computer programming.
Becoming a Qualified Computer Programming Professional
For federal consumer information about this program click on Gainful Employment Disclosure.
The Programming Program from ABCO Technology Computer Training School provides the hands-on training, practical experience and industry support it takes to pursue a rewarding programming career.
The Programmer Certification is primarily vendor-based from Microsoft, and validates a comprehensive set of skills necessary to deploy, build, optimize, and operate applications successfully by using Microsoft Visual Studio and the Microsoft .NET Framework.
Modern computer programming has moved forward to object oriented programming based in popular programming languages such as .Net, Visual Basic, Java, and C++. It can be used for developing forms, websites, applications, and web services in Visual Studio.
Areas of study include:
C++ Programming for Non C Programmers
Windows Communication Foundation Development with Microsoft .NET Framework 4
Web Applications Development with Microsoft .NET Framework 4
Accessing Data with Microsoft .NET Framework 4
Pro: Designing and Developing Web Applications Using Microsoft .NET Framework 4
As an ABCO student you'll learn directly from experienced industry professionals. With never more than seven other students to a class, you'll receive one-one-one guidance and support so you can pick up new skills quickly.
You can feel confident entering the professional world knowing you gained skills specifically outlined by Microsoft and top employers in the field.
"ABCO is a great choice when wanting to enhance your skills in the IT field. My experience at ABCO was great. Not only did I have an instructor that cared about me learning the material, but also took the time to explain and show me visually with the lab. They prepare you from beginning to end so that you can succeed when going to look for a job."
– Jackie R. – ABCO Graduate

Get Certified
As a graduate of this program you will be fully-prepared and eligible to complete the Microsoft Certified Professional Developer exams to obtain the designation Microsoft Certified Solutions Developer Certification: App Builder
Training provided in four easy steps:
Complete your training in the required program  in either Web Applications or Universal Windows Platform
Pass the required certification exams for MCSA and MCSD
Earn your Programmer Diploma along with your certification to broaden and advance your skills
Career Opportunities
Upon successful completion of the program students will be able to seek gainful employment in the following positions:
Computer Programmer
Software Developer Web Developer
Software Developer, Database
Software Developer / Business Analyst, Database
NET Software Developer / Programmer
Windows Application Developer
Network Engineerand Systems Analys
Software Developer / Business Analyst, Web Applications
Software Engineer
Application Developer
Whether you are new to technology, changing jobs, or a seasoned IT professional, becoming certified demonstrates to customers, peers, and employers that you are committed to advancing your skills and taking on greater challenges.
Convenient Day, Evening & Weekend Schedules
ABCO training is specifically designed to fit the needs of busy adult learners. Many students are working and/or raising families while going to school. You can choose from convenient day, evening, and weekend schedules.
Get the training you need to advance your career in a flexible convenient way that fits your life.
Get the Support You Need to Launch a Successful Career
Computer programming training isn't about getting a diploma to hang on the wall – it's about preparing yourself for the future you want. As an ABCO student and graduate you will be supported by a dedicated team of career placement assistance professionals and will benefit from job postings, interview assistance, networking, and more.
Financial Aid is available to those who qualify.
Prerequisites:
Before attending this course, students must have:
High School Diploma or equivalent
Knowledge of HTML and JavaScript or equivalent
One year programmer or related experience
Is a Rewarding Career in Computer Programming Right for You? Get More Info…
If you're interested in learning more about programming and exploring whether ABCO Technology is right for you, fill out the form on this page and receive more information.
A helpful Admissions Representative will be happy to answer any questions you have and help with everything from scheduling to financial aid.
For immediate questions, call 310-216-3067.