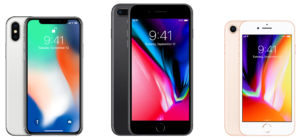 Apple departed from its traditional preview strategy for what it bills as its most important new iPhone in years, prioritizing early access to the iPhone X for YouTube personalities and celebrities over most technology columnists who traditionally review its new products.
Apple provided the iPhone X to a small number of traditional testers for about a week, while limiting most others, The Wall Street Journal included, to a single day with the device before reviews could be published. About a half-dozen personalities on Alphabet Inc.'s YouTube video service were granted time with the device before its release.
The company seeded the iPhone X to at least three influencers with different audiences: actor Mindy Kaling, who shared her thoughts with Glamour; 12-year-old developer Alex Knoll, who showed off the device on Ellen DeGeneres's television show; and political journalist Mike Allen, who included insights from his tech-savvy nephew in Axios's morning newsletter.
Apple Is Designing iPhones, iPads That Would Drop Qualcomm Components
Apple Watch Hits Cellular Snag in China
.
Traditional publications and tech outlets that in past years received review models for a week of testing were given the iPhone X fewer than 24 hours ago, resulting in crash reviews and first-impression takes from USA Today, the Washington Post, the Verge and others.
In the U.S., BuzzFeed, TechCrunch and Mashable were given a week with the iPhone X, as were the Telegraph and the Independent in the United Kingdom. The device also was given for a week to outlets in Japan, China, Australia and other countries. Steven Levy, among the handful of people to test the first-ever iPhone, spent a week with the iPhone X and posted his "first look" impressions on Backchannel, part of Wired Media Group, a day before most other publications..
The change in strategy meant the iPhone X, which hits stores Friday, got less testing than most of its predecessors before reviews could be published. The handful of reviewers that received the device for a week largely praised its full-screen display, facial-recognition system and smaller physical size. Removing the physical home button meant people would have to adjust to how they operated the device, they said.
iPhone X Review: Testing (and Tricking) FaceID
The number one new feature on the iPhone X is its facial recognition system. WSJ's Joanna Stern put it to the test with masks, costumes and identical triplets.
Crash reviewers largely echoed those sentiments, adding the caveat that they could discover issues after they spend more time with the device. Most pledged full reviews for later in the week.
The review strategy is "unusual," said Jan Dawson, an analyst with Jackdaw Research. "It's possible Apple wanted some reviews out early and those would be the more enthusiastic ones."
He said YouTube reviewers tend to be more positive when given early access to devices, and that most reviews aren't overly negative.
"Unless Apple felt like there would be some bad elements in the reviews, why would you hold back?" Mr. Dawson asked. "Why would you be selective about who gets it first?
The unusual approach comes in an iPhone release year marked by anomalies. For the first time, Apple released a trio of new handsets at its big fall launch event—the iPhone 8, 8 Plus and X. It also increased prices on its suite of new phones and staggered the launch with the iPhone 8 hitting stores Sept. 22 and the iPhone X hitting stores six weeks later.
The iPhone X arguably is the most important iPhone in a decade. Apple billed the device the smartphone of the future, and investor anticipation of strong sales has helped send the company's stock up more than 45%. Its success has taken on increasing importance amid lackluster sales for the iPhone 8 and 8 Plus.
At $999, the iPhone X is the highest-priced major smartphone ever. It is expected to be in limited supply after production issues over the summer delayed manufacturing by at least a month.
Advanced preorders began last week, and early demand quickly pushed shipment times for the device to five to six weeks from the day of an order—more than double the wait for last year's iPhone 7.
If you want to learn how to build applications for Apple's iPhone X along with other smart Phone, it's time to contact ABCO Technology. You can reach our campus between 9 AM and 6 PM Monday through Friday. Call us today at: (310) 216-3067.
Email all questions to: info@abcotechnology.edu
Financial aid is available to all students who can qualify for funding.
ABCO Technology is located at:
11222 South La Cienega Blvd. in STE # 588
Los Angeles, Ca. 90304
iPhone X is the smart phone of the future. Build applications for it today!