Courses at ABCO Technology Institute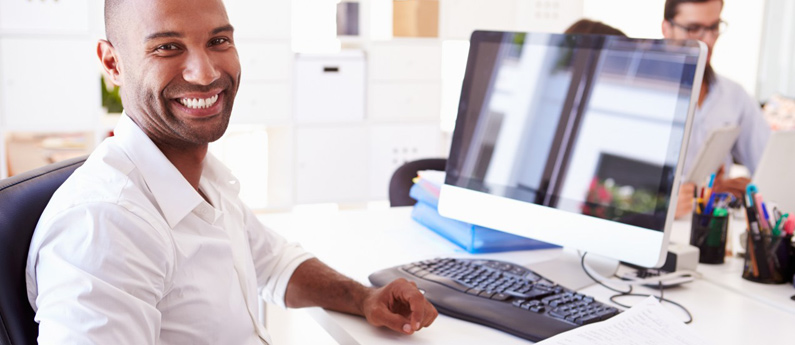 Specialized Hands-On Computer Training
Welcome to ABCO Technology Institute, providing computer training courses for Los Angeles. Below is a list of all courses offered in Information Technology, broken down by category. If you have any questions about any of the courses, or would like you discuss your best training options, fill out the form on this page or call 310-216-3067 to speak with a friendly and knowledgeable ABCO Admissions Advisor.
ABCO Institute of Technology may not offer all of these classes on an on-going basis. We are happy to work with you to determine if a customized course can be arranged to fit your training needs.
Computer Security Training
Certified Ethical Hacker

The CEH Program certifies individuals in the specific network security discipline of Ethical Hacking from a vendor-neutral perspective. A Certified Ethical Hacker is a skilled professional who understands and knows how to look for the weaknesses and vulnerabilities in target systems and uses the same knowledge and tools as a malicious hacker.

Course Objectives

Elements that are covered in this course are as follows:

Developing the hacker's mind
Network surveying
Port scanning
System identification / OS fingerprinting
Vulnerability research and verification
Service identification
Internet application testing
Document grinding
Recognizing security issues with an organization
Performing legal assessments on remote / foreign networks
Examining on organization for weaknesses as through the eyes of an industrial spy or competitor
Implementing the right tools for each task of the Methodology
Competitive Intelligence
Exploiting vulnerabilities remotely
Examining appropriate countermeasures to thwart malicious hacking

Prerequisites

To ensure your success, it is required that you first take the following course or have equivalent knowledge:

Course Benefits

This class will immerse the student into an interactive environment where they will be shown how to scan, test, and secure their own systems. The lab-intensive environment gives each student in-depth knowledge and practical experience with the current essential security systems. Students will begin by understanding how perimeter defenses work and then be led into scanning and attacking their own networks. Students then learn how intruders escalate privileges and what steps can be taken to secure a system. Students will also learn about intrusion detection, policy creation, social engineering, open source intelligence, incident handling, and log interpretation.

Course Duration: 40 Hours

CISSP – Certified Information System Security Professional

This IT Security Program is designed to provide the Professionals with the tools to achieve the Certifications from Cisco, (CCNA) / (ISC) ² (CISSP) , and CompTIA (Network+) The Certifications empower IT professionals with security expertise for Jobs like Security Network Administrator, Security Designer, Security Analyst, Security Technical Support, and Network Security Specialist.(ISC) ² promotes the CISSP certification as the "international gold standard" Experienced information security professionals with these three certifications establishes a common framework of information security terms and principles that allow information security professionals worldwide to discuss debate and resolve matters pertaining to the profession with a common understanding. The CISSP (Certified Information System Security Professional) is a certification created by the International Information Systems Security Certification Consortium, Inc., (ISC)² Government agencies, government contractors (especially DOD), companies, and organizations worldwide must have staff that have a common knowledge platform for and demonstrate competence in information security. (ISC)² helps fulfill these requirements with the CISSP. (ISC)2 promotes the CISSP exam as an aid to evaluating personnel performing information security functions. This course provides information security professionals a fully immersed all inclusive CISSP CBK training and certification experience. Our CISSP training class encompasses the (ISC)² CISSP CBK course outline, value-added hands- on, industry related instruction.

Course Objectives

Upon class completion, students will have been provided background and participated in discussions related to the 10 domains which are as follows:

Security Management Practices
Access Control Systems and Methodology
Cryptography
Physical Security
Enterprise Security Architecture
Law, Investigation, and Ethics
Telecommunications, Networks, and Internet Security
Business Continuity Planning
Applications & Systems Development
Operations Security

This information will provide a solid foundation in preparation for security professionals taking the CISSP exam administered by (ISC)2. More importantly,this course will broaden the student's current understanding of all of the components that are necessary to provide true security. These items are presented in a manner that will allow the students to bring back security solutions to their current employer.

Prerequisites

The course best benefits individuals with 3-4 years of experience in one or more of the 10 domains described in the Course Outline. Students with no prior experience in the security field should have taken and completed the CompTia Security+. It is targeted at security professionals who already have a fundamental understanding of information security.

Course Track

I. Security Management Practices

Types of Security Controls
Components of a Security Program
Security Policies, Standards, Procedures, and Guidelines
Risk Management and Analysis
Information Classification
Employee Management Issues
Threats and Corresponding Administrative Controls

II. Access Control Systems and Methodology

Identification, Authentication, Authorization Techniques and Technologies
Biometrics, Smart Cards, and Memory Cards
Single Sign-On Technologies and Their Risks
Discretionary versus Mandatory Access Control Models
Rule-based and Role-based Access Control
Object Reuse Issues and Social Engineering
Emissions Security Risks and Solutions
Specific Attacks and Countermeasures

III. Cryptography

Historical Uses of Cryptography
Block and Stream Ciphers
Explanation and Uses of Symmetric Key Algorithms
Explanation and Uses of Asymmetric Key Algorithms
Public Key Infrastructure Components
Data Integrity Algorithms and Technologies
IPSec, SSL, SSH, and PGP
Secure Electronic Transactions
Key Management
Attacks on Cryptosystems

IV. Physical Security

Facility Location and Construction Issues
Physical Vulnerabilities and Threats
Doors, Windows, and Secure Room Concerns
Hardware Metrics and Backup Options
Electrical Power Issues and Solutions
Fire Detection and Suppression
Fencing, Lighting, and Perimeter Protection
Physical Intrusion Detection Systems

V. Enterprise Security Architecture

Critical Components of Every Computer
Processes and Threads
The OSI Model
Operating System Protection Mechanisms
Ring Architecture and Trusted Components
Virtual Machines, Layering, and Virtual Memory
Access Control Models
Orange Book, ITSEC, and Common Criteria
Certification and Accreditation
Covert Channels and Types of Attacks
Buffer Overflows and Data Validation Attacks

VI. Law, Investigation, and Ethics

Different Ethics Sets
Computer Criminal Profiles
Types of Crimes
Liability and Due Care Topics
Privacy Laws and Concerns
Complications of Computer Crime Investigation
Types of Evidence and How to Collect It
Forensics
Legal Systems

VII. Telecommunications, Networks, and Internet Security

TCP\IP Suite
LAN, MAN, and WAN Topologies and Technologies
Cable Types and Issues
Broadband versus Baseband Technologies
Ethernet and Token Ring
Network Devices
Firewall Types and Architectures
Dial-up and VPN Protocols
DNS and NAT Network Services
FDDI and SONET
X.25, Frame Relay, and ATM
Wireless LANs and Security Issues
Cell Phone Fraud
VoIP
Types of Attacks

VIII. Business Continuity Planning

Roles and Responsibilities
Liability and Due Care Issues
Business Impact Analysis
Identification of Different Types of Threats
Development Process of BCP
Backup Options and Technologies
Types of Offsite Facilities
Implementation and Testing of BCP

IX. Applications & Systems Development

Software Development Models
Prototyping and CASE Tools
Object-Oriented Programming
Middleware Technologies
ActiveX, Java, OLE, and ODBC
Database Models
Relational Database Components
CGI, Cookies, and Artificial Intelligence
Different Types of Malware

X. Operations Security

Operations Department Responsibilities
Personnel and Roles
Media Library and Resource Protection
Types of Intrusion Detection Systems
Vulnerability and Penetration Testing
Facsimile Security
RAID, Redundant Servers, and Clustering

Course Benefits

This is one of the highest paying certifications in the Information Technology industry. After graduating from this course students will be able to apply for positions such as Security Engineers, Systems Engineers and Systems Administrators.

Course Duration: 40 Hours

CompTIA Security+

CompTIA Security+ validates knowledge of communication security, infrastructure security, cryptography, operational security, and general security concepts. It is an international, vendor-neutral certification that is taught at colleges, universities and commercial training centers around the world. Although not a prerequisite, it is recommended that CompTIA Security+ candidates have at least two years on-the-job networking experience, with an emphasis on security. The CompTIA Network+ certification is also recommended. Because human error is the number one cause for a network security breach, CompTIA Security+ is recognized by the technology community as a valuable credential that proves competency with information security.

Course Objectives

The course will cover the following elements:

Network Security
Compliance and Operational Security
Threats and Vulnerabilities
Application, Data and Host Security
Access Control and Identity Management
Cryptography

Prerequisites

Experience working with Networks prior to taking this course is recommended.

Course Benefits

Upon completion of computer security classes, students will be able to demonstrate understanding of:

Security Threats
Communications and Infrastructures Security
Cryptography, Access Control, and Authentication Techniques
External Attacks
Operational Security

According tot the United States Bureau of Labor, employment in computer IT related fields, especially those related to network security, is expected to be among the fastest growing during the next decade. This is partly due to the fast pace at which computer technologies are developed. Even in rough economic times, business are finding it necessary to invest more in their computer and network security. Because of this, trained and certified IT professionals in the field of computer technology security are in constant demand.
Linux Servers
CompTIA Linux+

The CompTIA Linux+ Course confirms an IT professional's proficiency in the everyday management of Linux-based clients and basic management of server systems. Students will learn the knowledge and tools necessary to manage Linux systems from the command line, as well as how to manage user administration, file permissions, software configurations, and Linux-based clients, server systems and security.

Course Objectives

The course will cover the following elements of the Linux Operating System:

Getting to know the Linux Operating System
Using Linux File System
Understanding Users and Groups
Working with Files
Scripting
Printing
Working with Packages
Networking
Hardware
Linux Kernel
Working with Processes
System Services
Securing Linux
Pre-Installation Considerations and Installing
Troubleshooting

Prerequisites

CompTIA A+ certification, or the equivalent skills and knowledge, is helpful but not required. Students may wish to take both of the following at ABCO Technology courses: A+™ Certification: Core Hardware (Third Edition) a CompTIA Certification. A+™ Certification: Operating Systems (Third Edition) a CompTIA Certification.

Course Benefits

Upon successful completion of this course, students will be able to:

Investigate information about Linux that can help you prepare for supporting Linux users and machines.
Work with user and group accounts.
Work with the Linux filesystem.
Manipulate various types of Linux files.
Change ownership and permissions for Linux files and directories.
Work with Linux printing services.
Work with Linux packages.
Work with many of the configuration files and commands that make up the Linux environment.
Work with jobs and processes.
Compare the services critical to running the Linux operating system to those services that can be run to enhance or expand system performance.
Configure Linux services related to Internet use.
Configure Linux services for providing users with network connectivity.
Investigate basic security issues in Linux.
Work with the hardware commonly associated with Linux machines.
Install the Linux operating system.

Course Duration: 40 Hours

Linux Fundamentals

Linux Fundamentals is a challenging course that focuses on the fundamental tools and concepts of Linux and Unix. Students gain proficiency using the command line. Beginners develop a solid foundation is Unix. Advanced users while discover patterns and fill in gaps in their knowledge. This course material is designed to provide extensive hands-on experience. Topics include: basic file manipulation; basic and advanced filesystem features; I/O redirection and pipes; text manipulation and regular expressions; managing jobs and processes; vi, the standard Unix editor; automating tasks with shell scripts; managing software; secure remote administration; and more.

Course Objectives

This course will cover the following elements of the Linux Operating System:

Introduction to Linux
Login and explore Linux
Linux Filesystem
Manipulate files
Shell basics
Archive and compression
Text processing
Regular expressions
Text editing
Command shells
Introduction to shell scripting
Process management and job control
Managing software
Messaging
Printing
The secure shell (SSH)
Mounting filesystems & managing removable media
Pre-installation considerations

Prerequisites

In order to ensure your success it is essential that you are comfortable with operating a computer and understand the basics of how they work.

Course Track

This course is the first course to obtain the LPIC Level 1 Certification.

Course Benefits

Upon successful completion of this course, students will be able to:

Be able to login to Linux
Gain a conceptual understanding of Linux file systems, especially data structure.
Restore the files system
Utilize shell and its variants
Utilize the ls command and variations
Create aliases
Set and manage file modes
Utilize file globbing
Find files
Use cat and echo command
Understand and be able to utilize the compression formats such as zip,gzip,bzip2 and tar
Use the vi text editor
Use the pico text editor
Compile / install software as a user
Set and manage install paths
Boot a LiveCd

Course Duration: 40 Hours

Linux System Administration

Linux Professional System Administration is a hands-on instruction book. It will introduce students to the basics of administering a server running the Linux operating system. The objective of this course is to provide students with the instruction necessary to prepare them for the Linux Professional Institute (LPI) Level 1 certification or the Level 1 Sair Linux and GNU certification. We organized each lesson into explanatory topics and step-by-step activities. Topics provide the theory you need to master the Linux operating system; activities allow you to apply this theory to practical hands-on examples.

Course Objectives

Examine the history of Linux and review the basic architecture of the Linux operating system.
Install Red Hat Linux using custom options.
Use the bash shell and understand essential system navigation.
Use various text editors and understand their effective uses.
Configure and use the X Window server.
Configure and use a Linux printer.
Configure and administer system users and groups, and administer basic password management.
Investigate Linux filesystem basics and the details of the ext2 filesystem.
Configure and recompile the Linux kernel.
Automate system administration tasks by creating basic shell scripts.
Use RPM to install, verify, query, erase, and update packages to manage applications on a server.
Manage server processes and daemons and identify the basics of system performance tuning.

Course Benefits

Upon successful completion of this course, students will be able to:

Examine the history of Linux and review the basic architecture of the Linux operating system.
Install Red Hat Linux using custom options.
Use the bash shell and understand essential system navigation.
Use various text editors and understand their effective uses.
Configure and use the X Window server.
Configure and use a Linux printer.
Configure and administer system users and groups, and administer basic password management.
Investigate Linux filesystem basics and the details of the ext2 filesystem.
Configure and recompile the Linux kernel.
Automate system administration tasks by creating basic shell scripts.
Use RPM to install, verify, query, erase, and update packages to manage applications on a server.
Manage server processes and daemons and identify the basics of system performance tuning.

Course Duration: 48 Hours
Mobile Application Development
Developing Mobile Applications for Android

Android Application Developers (AAD) have expertise delivering adjustable Android solutions through our platform skills and knowledge. Android, the latest buzz in the mobile development industry offers immense opportunities for customization and development of profitable applications which are also high on output delivery. Android is an open source platform for mobile computing. Applications are developed using familiar Java and Eclipse tools. Many vendors and carriers offer Android based devices (phones). Android is enjoying a healthy growth, in terms of hand set sells, applications available and new project starts. This course teaches students the applications for the Android based devices.

Course Objectives

This course will cover the following elements:

Smartphone and table applications, android development tools (ADT) plug-in for eclipse
Activities, intents, content providers
GUI components, menus, toasts, resource files, and gesture processing
Tablet applications, ActionBar and AppWidgets
Tweened Animations, Property Animations
Camera, Audio, Video, Graphics, OpenGL ES
Gallery and Media Library Access
Shared Preferences, Serialization, SQLite
Handlers and Multithreading, Games
Google Maps, GPS, Location Services, Sensors
Internet-Enabled Applications, Web Services, Telephony, Bluetooth
Speech synthesis and recognition
Android market, pricing, monetization
And more...

Prerequisites

Prior to attending this class, students should have a thorough knowledge of Java Programming or have taken the following class:

Introduction to Java Fundamentals

Course Outline:

Class1: Introduction to Android

Introduction
Android Overview
Android 2.2 (Froyo)
Android 2.3 (Gingerbread)
Android 3.0 (Honeycomb)
Android Ice Cream Sandwich
Downloading Apps from the Android Market Packages
Android Software Development Kit (SDK) Object Technology: A Quick Refresher
Test-Driving the Doodlz App in an Android Virtual Device (AVD)

Class 2: Android Market and App Business Issues

Introduction
Building Great Android Apps
Android Best Practices
Compatibility
Supporting Multiple Screens
Android User Interface Guidelines
Registering at Android Market
Setting Up a Google Checkout Merchant Account
AndroidManifest.xml File
Preparing Your Apps for Publication
Uploading Your Apps to Android Market
Other Android App Marketplaces
Pricing Your App: Free or Fee
Monetizing Apps with In-App Advertising
Monetizing Apps: Using In-App Billing to Sell Virtual Goods in Your Apps
Launching the Market App from Within Your App
Managing Your Apps in Android Market
Marketing Your App
Other Popular App Platforms
Android Developer Documentation
Android Humor

Class 3: Welcome App

Dive-Into
Eclipse and the ADT Plugin
Introduction
Technologies Overview
Eclipse IDE
Creating a New Project
Building the Welcome App's GUI with the ADT's Visual Layout Editor
Examining the main.xml File
Running the Welcome App
Wrap-Up

Class 4: Tip Calculator App

Building an Android App with Java
Introduction
Test-Driving the Tip Calculator App
Technologies Overview
Building the App's GUI
TableLayout Introduction
Creating the Project and Adding the TableLayout and Components
Reviewing the Layout So Far
Customizing the Components to Complete the Design
Final XML Markup for the Tip Calculator GUI
strings.xml
Adding Functionality to the App
Wrap-Up

Class 5: Favorite Twitter

Searches App
SharedPreferences, Buttons, Nested Layouts, Intents,
AlertDialogs, Inflating XML Layouts and the Manifest File
Introduction
Test-Driving the Favorite Twitter Searches App
Technologies Overview
Building the App's GUI and Resource Files
main.xml TableLayout
Creating the Project
Creating the Resource Files
Adding the TableLayout and Components
Creating a TableRow That Displays a Search and an Edit Button
Building the App
AndroidManifest.xml
Wrap-Up

Class 6: Flag Quiz Game

Assets, AssetManager, Tweened Animations, Handler, Menus and
Logging Error Messages
Introduction
Test-Driving the Flag Quiz Game App
Technologies Overview
Building the App's GUI and Resource Files
main.xml LinearLayout
Creating the Project
Creating and Editing the Resource Files
Adding the Components to the LinearLayout
Creating a Button That Can Be Dynamically Inflated
Creating the Flag Shake Animation
Building the App
AndroidManifest.xml

Class 7: Cannon Game App

Listening for Touches and Gestures, Manual Frame-By-Frame
Animation, Graphics, Sound, Threading, SurfaceView and SurfaceHolder Introduction
Test-Driving the Cannon Game App
Technologies Overview
Building the App's GUI and Resource Files
Creating the Project
AndroidManifest.xml
strings.xml
main.xml
Adding the Sounds to the App
Building the App
Line Class Maintains a Line's Endpoints
CannonGame Subclass of Activity
CannonView Subclass of View

Class 8: SpotOn Game App

Property Animation, ViewPropertyAnimator, AnimatorListener,
Thread-Safe Collections, Default SharedPreferences for an
Activity
Introduction
Test-Driving the SpotOn Game App
Technologies Overview
Building the App's GUI and Resource Files
AndroidManifest.xml
main.xml RelativeLayout
untouched.xml ImageView for an Untouched Spot
life.xml ImageView for a Life
Building the App
SpotOn Subclass of Activity
SpotOnView Subclass of View

Class 9: Doodlz App

Two-Dimensional Graphics, SensorManager, Multitouch Events and
Toasts
Introduction
Test-Driving the Doodlz App
Technologies Overview
Building the App's GUI and Resource Files
Creating the Project
AndroidManifest.xml
strings.xml
main.xml
color_dialog.xml
width_dialog.xml
Building the App
Doodlz Subclass of Activity
DoodleView Subclass of View

Class 10: Address Book App

ListActivity, AdapterViews, Adapters, Multiple Activities,
SQLite, GUI Styles, Menu Resources and MenuInflater
Introduction
Test-Driving the Address Book App
Technologies Overview
Building the GUI and Resource Files
Creating the Project
AndroidManifest.xml
styles.xml
textview_border.xml
AddressBook Activity's Layout: contact_list_item.xml
ViewContact Activity's Layout: view_contact.xml
AddEditContact Activity's Layout: add_contact.xml
Defining the App's MenuItems with menu Resources in XML
Building the App
AddressBook Subclass of ListActivity
ViewContact Subclass of Activity
AddEditContact Subclass of Activity
DatabaseConnector Utility Class

Class 11: Route Tracker App

Google Maps API, GPS, LocationManager, MapActivity, MapView and Overlay
Introduction
Test-Driving the Route Tracker App
Technologies Overview
Building the GUI and Resource Files
Creating the Project
AndroidManifest.xml
Route Tracker Layout: main.xml
Building the App
RouteTracker Subclass of MapActivity
BearingFrameLayout Subclass of FrameLayout
RouteOverlay Subclass of Overlay

Class 12: Slideshow App

Gallery and Media Library Access, Built-In Content Providers,
MediaPlayer, Image Transitions, Custom ListActivity Layouts
and the View-Holder Pattern
Introduction
Test-Driving the Slideshow App
Technologies Overview
Building the GUI and Resource Files
Creating the Project
Using Standard Android Icons in the App's GUI
AndroidManifest.xml
Layout for ListView Items in the Slideshow ListActivity
Slideshow ListActivity's Menu
Layout for the EditText in the Set Slideshow Name Dialog
Layout for the SlideshowEditor ListActivity
Layout for ListView Items in the SlideshowEditor ListActivity
Layout for the SlideshowPlayer Activity
Building the App
SlideshowInfo Class
Slideshow Subclass of ListActivity
SlideshowEditor Subclass of ListActivity
SlideshowPlayer Subclass of ListActivity

Class 13: Weather Viewer App

Web Services, JSON, Fragment, ListFragment, DialogFragment,
ActionBar, Tabbed Navigation, App Widgets, Broadcast Intents and
BroadcastReceivers
Introduction
Test-Driving the Weather App
Technologies Overview
Building the App's GUI and Resource Files
AndroidManifest.xml
WeatherViewerActivity's main.xml Layout
Default Cities and ZIP Codes in arrays.xml
WeatherViewerActivity's actionmenu.xml Menu Layout
WeatherProvider App Widget Configuration and Layout
Building the App
Class WeatherViewerActivity
Class CitiesFragment
Class AddCityDialogFragment
Class ForecastFragment
Class SingleForecastFragment
Class ReadLocationTask
Class ReadForecastTask
Class FiveDayForecastFragment
Class ReadFiveDayForecastTask
Class DailyForecast
Class WeatherProvider

Course Benefits

Upon successfully completing all the labs and activities in class, students would have build the following Apps:

SpotOn Game
Slideshow
Flag Quiz
Route Tracker
Favorite Twitter Searches
Address Book
Tip Calculator
Doodlz
Weather Viewer
Cannon Game
Voice Recorder
Pizza Ordering
and more...

Course Duration: 40 Hours

Introduction to Objective C for IOS Development

Objective-C is the language for developing iPhone and iPad applications. This class teaches the fundamentals of the programming language. It includes an introduction to XCode, the software development tool for Objective-C; c++ underlying concepts; program control flow and functions; object-oriented programming concepts and practice, including object handling within Objective-C; memory management in Objective-C; and an in-depth review of the Foundation classes.

Course Objectives

Learn how to use XCode for developing Objective-C programs.
Learn how to manage variables and build your own functions in Objective-C.
Learn the fundamental concepts of object oriented programming, and how to create and use objects in Objective-C.
Understand the memory management model for Objective-C, and options for the developer.
Learn about the Foundation classes for data manipulation, and their use in Objective-C programming.

Prerequisites

Experience in the following areas is required:

Minimal programming experience, including use of variables within a program
Some Object-Oriented programming experience will be beneficial.

Course Benefits

Upon class completion students will gain a strong foundation and understanding for the Objective C language. Students can then take the next step towards learning XCode which will help in developing Mobile Apps for iPhone.

Course Duration: 40 Hours
Project Management PMP
Fundamentals of Project Management

This course integrates project management theory with practical approaches to establish a fundamental knowledge base to use in a contemporary dynamic business environment. Project management concepts are explored from planning and selection through all aspects of the project life cycle. Practical techniques are developed to organize and control non-routine activities in order to properly manage and schedule quality, budget, and performance objectives. Required course in Professional Designation and Sequential Program in Project Management. Course materials are available both in class and via Internet.

Course Objectives

This course integrates project management theory with practical approaches to establish a fundamental knowledge base to use in a contemporary dynamic business environment. Project management concepts are explored from planning and selection through all aspects of the project life cycle. Practical techniques are developed to organize and control non-routine activities in order to properly manage and schedule quality, budget, and performance objectives. Required course in Professional Designation and Sequential Program in Project Management. Course materials are available both in class and via Internet.

Prerequisites

This course integrates project management theory with practical approaches to establish a fundamental knowledge base to use in a contemporary dynamic business environment. Project management concepts are explored from planning and selection through all aspects of the project life cycle. Practical techniques are developed to organize and control non-routine activities in order to properly manage and schedule quality, budget, and performance objectives. Required course in Professional Designation and Sequential Program in Project Management. Course materials are available both in class and via Internet.

Course Benefits

This course integrates project management theory with practical approaches to establish a fundamental knowledge base to use in a contemporary dynamic business environment.

Project management concepts are explored from planning and selection through all aspects of the project life cycle.
Practical techniques are developed to organize and control non-routine activities in order to properly manage and schedule quality, budget, and performance objectives.
Required course in Professional Designation and Sequential Program in Project Management.
Course materials are available both in class and via Internet.

Course Duration: 40 Hours
VMware
Vmware Infrastructure 3 Install And Configure

This is a hands on course introduces compelling features of VMware infrastructure 3. This course demonstrates VMware infrastructure 3 features capable of reducing your IT costs while improving efficiency, availability, flexibility, and manageability.

Course Objectives

This course covers the following elements:

Installation of ESX Server
Configuration of ESX Server networking and storage
Install and configure VirtualCenter
Control users access to the VMware infrastructure
Deploy and manage virtual machines using VirtualCenter
Allocate and monitor virtual machines resources
Ensure high availability of applications

Course Benefits

Upon successful completion of this course students will be able to:

Understand visualization and virtual infrastructure components
Set-up ESX Server
Configuration of virtual switches, network connections and port groups
Storage management technologies
Set-up of VirtualCenter components
Use of templates
Use of VMware converter enterprise
Manage using VMware VirtualCenter and WebAccess
Use of guided consolidation
Control administrator rights
VMotion migration
Set-up of resource pools and a VMware Distributed resources Scheduler (DRS) cluster
Setting VM priorities on CPU, memory and other resources
Workload assessment
Monitoring using VMware High Availability (HA) cluster
Guidelines and best practices for basic deployment

VMware Infrastrucutre 3 Deploy Secure And Analyze

This hands on training course, aimed at experienced VMware Infrastructure Administrators, has been updated to reflect ESX Server 3.5 and VirtualCenter 2.5 It focuses on ESX Server 3.5 rather than ESX Server 3i. ON completion of this course, you can take the examination to become a VMware Certified Professional. This course is a continuation to become a VMware Certified Professional. This is a continuation of the VMware infrastructure 3: Install and configure course.

Course Objectives

This course covers the following elements:

Perform scripted installation
Administer an ESX server using commands
Configure Virtual Infrastructure Security
Monitor Virtual Infrastrucutre
Configure and implement VMware high availability (HA), distributed resource scheduler (DRS), consolidated backup, and update manager
Perform fault analysis on Virtual Infrastructure components

Prerequisites

To ensure your success the following courses are recommended:

VMware Infrastructure 3: Install and Configure

OR

Equivalent experience with VMware Infrastructure 3

Course Benefits

Upon successful completion of this course students will be able to:

Understand Network Administration
Manage virtual machine file systems (VMFS) datastores
Introduce storage VMotion
Configure and secure virtual networking
Configure software iSCSI adapter
Manage service console firewall
Utilize DRS Configuration and Performance Monitoring
Analyze and interpret performance using esxtop and graphical tools
Create and manage DRS-enabled clusters
Understand Business Continuity and Data Protection
Configure advanced features of VMware HA cluster
Perform backups and restoration of virtual machines using VMware consolidated backup
Understand Operational Maintenance
Configure and apply updates using VMware Update Manager
Modify Logging Behavior
Configure VirtualCenter and ESX Server logging
Consolidate and rotate log files
Understand service console security
Configure SSH and TCP wrappers
Utilize Rapid Deployment of ESX Servers
Perform automated installation of ESX Servers for mass deployments

Course Duration

VMware Infrastrucutre 3 Fast Track Program

This intensive, extended-hours training course covers the installation, management and use of VMware Consolidated Backup (VCB), VMware Converter, Storage VMotion and VMware Update Manger. It combines the content from the 3.5 versions of the VMware Infrastructure 3: Install & Configure and Deploy, Secure and Analyze training courses. Upon completion of this course, you can take the examination to qualify as a VMware Certified Professional.

Course Objectives

This course will cover the following elements:

Perform manual and scripted ESX Server Installations
Understand and configure security on the service console
Install, configure, migrate, manage and monitor virtual machines using ESX Server and VirtualCenter
Utilize VMware Converter and VMware Update Manager
Learn specific commands used to administer an ESX Server
Configure and implement VMware HA, DRS and VCB
Perform fault analysis in Virtual Infrastructure

Course Benefits

Upon successful completion students will be able to:

Understand VMware products' functions and applications
Perform an interactive installation of ESX Server
Configure virtual switches, network connections and port groups through the GUI interfaces and CLI
Identify how virtual infrastructure mitigates common security vulnerabilities
Manage the service console firewall
Survey storage management technologies
Configure iSCSI storage access
Secure access to storage and networks
Analyze and troubleshoot a storage-related issue
configure VirtualCenter
Use Virtual machines using VMware VirtualCenter
Control administrator rights
Migrate VMs using VMotion
Set VM priorities for core resources
Create DRS enabled clusters
Manage resource pools
Interpret performance graphs
Enable a VMware HA cluster
Perform backups using VMware consolidated backup
Patch VMS and templates
Configure ESX server logging behavior
Identify ESX server and vc server log files
Manage user and host access and privileges
Perform a scripted installation of ESX Server