Testimonials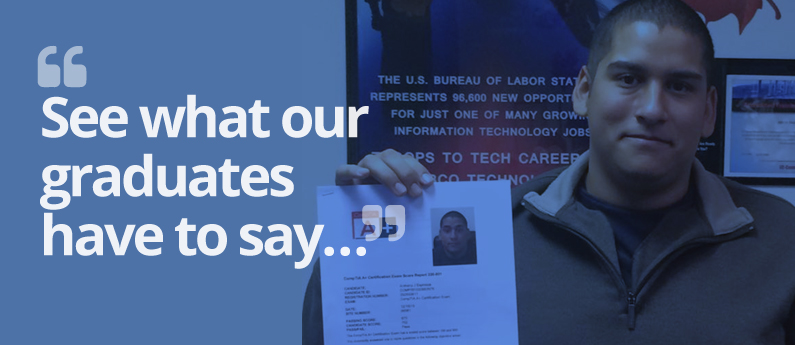 Great school great people and easy classes to learn in.
Great Teachers. They are not just instructors, the work on the field and teach you what they do over the books and texts.
ABCO technology is an outstanding school. Students learn not only by the lectures but also by performing hand on practices where they get trained to implement and also troubleshoot real life issues. During the Android APP development class I was faced with many challenges and the instructor (Arif) always went the extra mile to make sure that I fully understand the subject of the matter. Having finished my training I was able to become a certified Android App developer and was not only able to submit APP to the Google Play Store, but also take on the code challenges that well-known companies gave me to take on. Charles Pascal is a very knowledgeable and caring counselor that not only teaches one how to make a resume to properly match their knowledge and the skill that he/she has acquired at ABCO, but also how to present oneself in an interview with confidence and demonstrate the capability to take on the tasks at work. Overall ABCO is an excellent for anyone who is willing to become an IT professional in any field – being a Network Engineer, System Administrator and/or a programmer. The training at ABCO prepares students for professional jobs that require skilled individuals and sets its trainees in the path of success and accomplishment in the field of IT.
ABCO Technology helped me understand how the world of Information Technology is connected through the MCSE Microsoft Certification program. I know which way in my career I want to go. You think you know it all THINK AGAIN. Reality SLAPPED me in the face and got a wakeup call. ABCO Technology guided me in a simple matter which made sense. I am currently employed thanks to ABCO. They helped me with my resume and schedule an interview with the company I am currently employed at. I don't know how ABCO ROLLED back in the day but today's staff are good people and the instructors helped every time I SCREAMED HELP!!!!
I just completed my HTML Photoshop and Dreamweaver classes here. I must tell you this place is excellent. The training was very systematic, and step by step. I loved the project idea, which helped me a great deal in learning Photoshop and web designing. I'm going to continue to sign up for the CIW. I'm very picky about training, and I'm usually the one asking many questions. This place is really the best secret in town. It helped me in getting my career started. I must say the instructors were very helpful. If you want to learn web designing or IT, I would enroll at ABCO for the best training.
I am a graduate of ABCO Technology and finished the Certified Internet Webmaster course. ABCO actually got me a job after I finished. It was only temporary, but I found another, permanent job a couple months later. I work in a different industry now, but I still make websites on the side for some extra cash. I've gone back to Arif a few times since I graduated and he's always been willing to help me out. They go over A LOT of information. My only critique would be that maybe they could make the course a bit longer because of all of the information to absorb. But I learned a lot there. I am naturally more of a designer, and some of the more advanced coding was tough for me. But I can now confidently create a website, and know enough PHP/MySQL to make it work. I've only had good experiences with the staff. It was well worth it for me to go to ABCO.
ABCO is a great choice when wanting to enhance your skills in the IT field. My experience at ABCO was great. Not only did I had an instructor that cared about me learning the material, but also took the time to explain and showed me visually with the lab. They prepare you from beginning to end so that you can succeed when taking the certification exam and when going to look for a job.
My time here at ABCO has been a good experience. I don't come from an IT background, but I was looking for a career change. Initially I was concerned that I may not be able to keep up with the class because my job experience had been on a different field. However, the instructors are have been encouraging and always there to answer my questions. What I really enjoyed about the classes were the hands-on labs that allowed me to visually see and walk-through the scenarios, and in my case, I learned much better this way. In addition, the study guides for the certification exams were very useful that I felt comfortable walking into the test room and taking the test. Long story short, with the help and guidance of ABCO Technology, I was able to complete my Oracle DBA certification.
I am now a certified CCNA thanks to ABCO Technology….

I have been trying to earn this certification since the last 1 year and I have attended a few schools but have failed miserably until now. So I would like to thank the Cisco professor and the school for helping me obtain this certification. Attending the Cisco CCNA class from ABCO helped me understand all the complicated concepts, and I gained thorough understanding of all the Cisco commands and other router functions that are used commonly. Lectures and Labs really helped me with the knowledge I needed to pass the exam. Once again thanks ABCO , our Cisco professor Mr. Emmanuel and the staff for helping me accomplish my goal :).